By accepting you will be accessing a service provided by a third-party external to http://buyersmeetingpoint.com/
Flip Side Webinar Notes: Social Media Darwinism for Sales?
Last week I attended a webinar run by the TAS Group called 'Enabling Social Enterprise Through Sales'. The focus of the event was to look at how much time sales professionals are spending on various social media sites and what kinds of activities they are engaged in.  If you are interested in experiencing the content for yourself, you can view the webinar on demand (registration required) or view the slides on slideshare (no registration).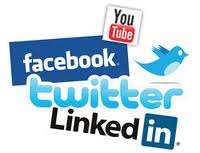 The event covered a mix of social media platforms, from Twitter, to Facebook to LinkedIn. Since the goal of most sales activity on social media is to reach and hopefully influence the procurement community, it seems worthwhile to consider their strategy. 
According to the event speaker, social media was accepted as a 'mainstream' way to approach CRM or customer relationship management in 2011. The information available to buyers through channels other than their sales reps is greater than ever before. Suppliers are looking at social media as a way to re-establish contact, either earlier in the process or to start building a relationship before the active sourcing process starts.
Traditional means of contacting buyers are showing diminishing returns. One example of this is called 'spray and pray' because it attempts to allow suppliers contact with enough buying organizations that the odds result in sufficient qualified leads. 92% of cold-calls are never converted into leads. Additionally, these approaches do not support the desire of most sales organizations to approach prospects from a consultative standpoint.
Another statistic shared in the webinar relates to buyer use of social media: 75% of buyers currently use social media during the sourcing process. [No source was quoted that allowed me to read into the details of this figure, but I suspect that it is high.] Whether procurement professionals are leveraging social media in the sourcing process or not, we are active in social media channels in ever-increasing numbers. The information we share does allow suppliers who use it to their advantage to reach out and connect with us based on relevant, meaningful data.
The final analogy used in the webinar compared sales' use of social media to Darwinism: implying that if sales professionals don't evolve to incorporate social media into their customer and prospect reach-out techniques, they will be eliminated through a process similar to natural selection.
There are a number of other sales webinars on this topic scheduled for the coming weeks, and I will attend them and share any additional thoughts that come up, but two questions remain open in my mind:
What is the actual percent of buyers using social media during the sourcing process?

How are your current and prospective suppliers using social media to cement their relationship with your organization?
Please sign in and comment if you are interested in sharing your thoughts on The Point.
Related Posts
Comments
No comments made yet. Be the first to submit a comment