Getting to yes – with yourself!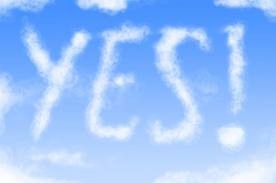 When our son was young, he would go through a cycle that was amusing to all of us. He would nod his head up and down while saying "uh huh" and then side to side "nuh uh" and repeat this many times. He was outwardly arguing with himself but not over any particular topic. We would ask him who won. The response was "me of course"! We would laugh.
I was reminded of that when I read this blog from the Harvard Business Review titled "The Most Important Negotiation". Wow – that had to hold a secret to make me an amazing negotiator!
This is an insightful article that recognizes the most conversations we have are with ourselves. We have thoughts all day long about how to behave. Do I have a donut with my coffee or not? Should I make that phone call to another prospective customer or wait another day, week, month? How do I help my adult child struggling with career choices? And the chatter goes on and on.
The discussion suggests taking those conversations and getting adept at working with them in four approaches, labeled "The Big Four".
The Chief Executive Officer: your inner Dreamer
The Chief Financial Officer: your inner Thinker
The Vice-President of Human Resources: your inner Lover
The Chief Operating Officer: your inner Warrior
I found for myself I default to the COO – let's get into action. What tasks, timelines, problems need to be solved and executed on? The key the article points out is that there are opportunities for you to use all four methodologies.
There are some interesting comments on the article as well. Once you have read it, what would you say about your success with negotiation with yourself? How are you getting to 'yes' more often?
Related Posts
Comments
No comments made yet. Be the first to submit a comment