By accepting you will be accessing a service provided by a third-party external to http://buyersmeetingpoint.com/
Gutenberg and Procurement Leadership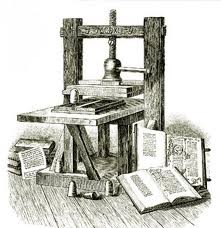 The printing press invented by Johannes Gutenberg in the 1400's has been ranked as the most important invention of modern times. This new technology allowed for mass production of print. It allowed for the spread of learning to the general population.
Here is a clear situation of how technology shaped the future. I am sure at that time, many were resistant to the new printing press – cost, quality and maintenance were all a factor. In many ways, nothing has changed. Some of those obstacles exist today in our discussions of adopting new tools and technology.So how does the invention of moveable type play a role in Procurement Leadership?
This week's esourcing Wiki-Wednesday is Sourcing Sensei Scruple Six: Technology. It reviews the importance of the procurement organization to adopt the tools and technology. It also discusses that you are consistently reviewing and upgrading when appropriate. We do not see anyone using the printing press from the 1400's anymore. Of course that has evolved over the centuries and now we are in the electronic age.
Procurement leaders provide their team with the appropriate tools and technology. As the organization evolves, the technology needs to continuously be evaluated to make sure it still serves the organization. You don't get the latest technology just for the sake of the technology. However, periodically evaluating the marketplace is important since features and functionality change continually.
How has your team evolved beyond the "printing press" of sourcing technology? Do you review the options consistently? What advantages have you enabled with the upgraded tools? 
Comments
No comments made yet. Be the first to submit a comment