How to be like Gumby and Pokey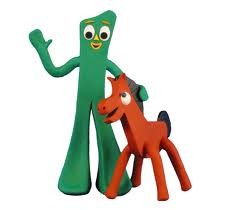 I have both Gumby and Pokey on my desk. I discovered them a few years ago in my children's toy boxes. I did not even know we had them in the house. It was perfect timing. I was involved in a project that was constantly changing requirements and timelines. I was the project leader and had to remind myself to be flexible. To this day, these two figurines remind me of the advantages of that capability.

This week's eSourcing Wiki article is about Flexible Business Process Management. Basically it is talking about having an environment of continuous improvement. The recommendation for procurement associates is to have a sourcing process and the appropriate tools. In the next generation of teams, they will have tools that are flexible enough to be modified as the business evolves. Future organizations can not work in the traditional cycle for modification of technology. That takes too long. There are BPM tools that are available to be easily modified and adapt to the new requirement or process.
How frequently does your organization review and then modify the process? Since most people like to avoid chainge, the tendency would be to avoid this process.
Have you utilized any BPM tools for change or improvements to your procurement processes? Did it make a difference in your flexibility? Would you be ready to be like Gumby and Pokey?

Related Posts
Comments
No comments made yet. Be the first to submit a comment