Thanksgiving is a result of acts of kindness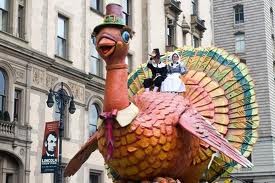 When the Pilgrims first landed on the shores of what would become the United States of America, it was the kindness of the Native Americans that helped the newcomers survive.

That first winter in 1620 was harsh and there were many that did not survive. In the Spring, the Pilgrims learned how to fish and farm, based on the kindness of the locals. As an expression of their gratitude, in the fall of 1621, the Pilgrims invited them to a Harvest Feast. That tradition continued for many years to come. Buyers Meeting Point is based within an hour's drive of the first Thanksgiving.  While we have not suffered hardships anything like our forefathers, we would like to continue our annual tradition of expressing our gratitude to those who have shown us kindness as we grow our business.

Our Readers, Members and Followers:
We started Buyers Meeting Point over six years ago for the simple purpose of supporting our colleagues in procurement, purchasing and supply chain as they work to improve their knowledge and skills on a limited time budget. That continues to this day. We are thrilled that our audience has grown so much over the years. We are grateful that you feel it is a valuable use of your time to read our content and make use of our resources.
Our Partners

Thank you for working with us and trusting us to add value to your businesses. While we depend upon your sponsorship to 'keep the lights on' we also benefit from your creativity and the inspiration you provide. We genuinely enjoy working with all of you. We are grateful for your input and contributions to the procurement field: AT Kearney, Cottrill Research, Coupa, Denali Group, Directworks. Focused Buyer, GEP, IASTA, Ivalua, Market Dojo, Next Level Purchasing Association, Nipendo, Proactis, ProcureApp, Procurement Academy, Puridiom, riskmethods, SciQuest, Source One, and ThomasNet.
Jon Hansen & Kate Vitasek

Thank you for your perspective, and mentoring. You have been with us as we reached significant milestones in our journey to this point. With your guidance and encouragement, we consider ourselves fortunate to be on a positive path. You have offered us sound advice and given us opportunities to discuss and make us 'think' about what we want to be and where we are headed!  

Jeanette Jones

In 2014, you gave me the opportunity to cross an item off my 'bucket list' by inviting me to co-author a book with you. Almost exactly a year later, our book - Supply Market Intelligence for Procurement Professionals - is a reality. Although we have not (yet) met face to face, we are kindred spirits for sure. I will always be grateful that you approached me out of nowhere and gave me this amazing opportunity. -Kelly

Supporting Blogs & Editors

We have an endless volume of things to say and we thank all of the sites that carry our content. Your willingness to print our unique view of the procurement profession gives us an opportunity to reach new readers and expand the visibility of our brand. We are proud to have our work showcased on your sites - and always appreciate the edits you provide that improve the quality of our work. IASTA's eSourcing Forum, Procurement Insights, ThomasNet's IMT Procurement Journal, and the American Purchasing Society's Professional Purchasing Journal.
We're also grateful for the input from our guest bloggers, Lindsey Fandozzi, Patricia Moody, Bryan Anderson, Michael Croasdale, Nicholas Mortimer, Sean Parry, Rebecca Lorden, Ron Larimer, Danielle Rosato, and Dr. Thomas DePaoli. Thank you for your fantastic contributions to our site.

Deb Shelby
Thank you for continuing to be our friend and technical guru. You help us present our message in a creative way and challenge us to rethink things when we begin to take them for granted. We appreciate all you do to keep us moving in the right direction and are looking forward to our next facelift in 2015.

Procurement Authors & Publishers
We love to read, and like it even better when we get to discuss books with the creative people who wrote them. Our thanks to the following authors for sending us their books and for their contributions to the development of the procurement community: John Manners Bell (Global Logistics Strategies, Supply Chain Risk), Caroline Booth (Strategic Procurement), Gerard Chick and Robert Handfield (The Procurement Value Proposition), George Borden and Steve Jeffery (The Art of Creating a Quality RFP), Carlos Mena, Remko van Hoek, and Martin (Leading Procurement Strategy), Jonathan O'Brien (Supplier Relationship Management, Negotiation for Purchasing Professionals and Category Management in Purchasing), Gwynne Richards (Warehouse Management), Peter Spiller, Nicolas Reinecke, Drew Ungerman, and Henrique Teixeira (Procurement 20/20), Regina M. Abrami, William Kirby, and F. Warren McFarlan (Can China Lead?), Michael L. Gruenberg (Buying and Selling Information), Andrew Winton (The Big Pivot), Peter A. Bruck and Madanmohan Rao (Global Mobile), Christian Madsbjerg and Mikkel B. Rasmussen (The Moment of Clarity), Tom DePaoli (Kaizen Kreativity OOPS!), Marcy Phelps (Research on Main Street).
 Our Families

Thank you to our families for listening to our ideas and supporting our efforts as we work to make Buyers Meeting Point all it can be. You are the wind to our sails and the compass for this journey. We appreciate your trust in us and the assistance you provide on all fronts.
Thank You!
We gratefully thank all of our supporters. As referenced at the beginning, we appreciate your kindness to us and look forward to many "harvest festivals" in the years ahead.

Related Posts
Comments
No comments made yet. Be the first to submit a comment