Webinar Notes: The New Brushstrokes of Supply Chain Planning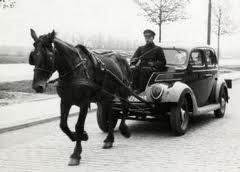 "If I had asked people what they wanted, they would have said faster horses."
-- Henry Ford
This week's featured webinar was hosted by Kinaxis and brought us perspectives on the evolving modern supply chain from Lora Cecere, founder of Supply Chain Insights, a research, speaking, advisory, and training firm focused on making supply chain leaders and their teams more effective. Lora spent nine years as an industry analyst with Gartner Group, AMR Research, Altimeter Group and is now the founder of her own firm.  Prior to becoming a supply chain analyst, she spent fifteen years as a leader in the building of supply chain software and twenty years as a supply chain practitioner at Procter & Gamble, Kraft/General Foods, Clorox, and Dreyers Grand Ice Cream.
Today, many supply chain groups experience frustration with their advanced planning capabilities, largely because they have an outdated systems perspective. It is important to think past the 1990's ERP/APS vision of supply chain planning. Technology and processes are changing as supply chain teams attempt to solve problems in a very busy work environment. While no one vendor offers the answer in a solution, be careful not to buy the 'old stuff'. Push and partner with all solution providers using advanced analytics to help build systems that adapt. When analysts look at the evolution of decision support capability in supply chain solutions, they observe that we fundamentally have not changed how we do planning since the 1990s but the technology is much further along.

In most organizations, there is a high satisfaction rate with order to cash transactions systems, and transportation and warehouse management systems. On the other hand, professionals express low satisfaction with supply chain planning, demand planning, and network design (as examples) because they are based on yesterday's concepts of the market. Each supply chain team needs to ask of themselves: are solutions that were built 15-20 years ago right for what we are trying to do today?
2011 was an incredibly volatile year for businesses, with 85% of supply chains experiencing disruptions such as those caused by the natural disasters in Japan and Thailand. Even in less unpredictable times, organizations struggle with the integration of supply chain and business planning processes. While supply chain planning is based on volume, business/financial planning processes are based on cost.
The most effective supply chain is not always the most efficient supply chain. Companies have to balance costs with efficiency, reliability, forecast accuracy, return on assets, and customer service. Companies today outsource more manufacturing than they control internally, creating the need to build global networks that are as effective and resilient as local networks.
Many supply chain executives can't communicate their full business value to finance. People are quickly overwhelmed with the complexity of supply chain challenges. To get past this barrier, it is necessary to extract the simple from the complex and to represent the supply chain from end to end without getting lost in the data. Keep the focus on what is important rather than what is urgent. Embrace complexity in order to better understand how to manage it - there is value to be found in complexity.
One key problem that must be overcome is that we are starting in the wrong place in our pursuit of supply chain excellence. We think we have best practices in place so we start with business processes. Instead, we should start with business strategy and then implement technology. Look at the choices that have been made about growth and assets and align relationships around demand and supply. Consider the aspirations and capabilities of strategic partnerships on both sides: does a partner have the data capabilities to support accurate forecasting or data requirements? The potential of the supply chain needs to be captured up front through financial balance sheet benchmarking.
Supplier networks and supplier development are often under supported by today's technology solutions. Companies should build processes from the outside in - rather than inside out where we sit and wait for orders and shipments – by looking at both markets and unstructured data such as call center data and warranty data. Well integrated data and processes will allow people to operate within their functional expertise but transmit data within the organization quickly so others are aware of changes and can take action accordingly. The goal is to enable responsiveness across functions and organizations.
Gaining insight is the first step, and it gives us visibility into the impact of our processes on suppliers and customers. We must understand the impact of trade-offs rather than just focusing on efficiency. A key aspect or requirement of this effort is to increase visibility by making use of data from multiple sources. Greater visibility WAS going to come from connecting your ERP system to suppliers' ERP systems throughout the supply chain, but in the end this was not sufficient.
The evolution of extended/integrated supply chains between trading partners has led to an ability to sense demand and supplier changes and orchestrate response in line with markets. Collaborative technologies bring a social layer (rather than a back-end transactional perspective) to the supply chain. Be sure to ask trading partners what they think of a plan before you put it into place. We can't build an end to end supply chain until we become business partners and effect sales and marketing strategies through the redefinition of processes and practices.
Next steps:
Invest in analysis and new technology

Do pilots actively

Be a business partner

Think about the effective frontier of the supply chain
Related Posts
Comments
No comments made yet. Be the first to submit a comment