So, what do you call YOURSELF?
This week's Wiki-Wednesday topic is supply management, and you can click here to connect to an excerpt from the article on that topic or to link back to the full page.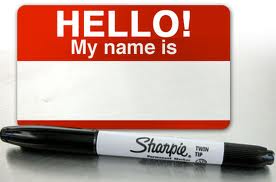 While we stuck with our Wednesday tradition of pulling information from Wikipedia, they aren't the only game in town when it comes to defining supply management. Here are a brief definition from Wikipedia and some others:
Wikipedia: the methods and processes of modern corporate or institutional buying. This may be for the purchasing of supplies for internal use referred to as indirect goods and services, purchasing raw materials for the consumption during the manufacturing process, or for the purchasing of goods for inventory to be resold as products in the distribution and retail process.
Institute for Supply Management: ISM leadership carefully crafted and periodically updates the future-oriented definition of supply management. Today it reads: "The identification, acquisition, access, positioning, management of resources and related capabilities the organization needs or potentially needs in the attainment of its strategic objectives."
Investopedia: A broad term describing the various acts of identifying, acquiring and managing the products and/or resources needed to run a business or other organization. These include physical goods as well as information, services and any other resources needed. Supply management divisions within large corporations can be very large, with budgets in the billions and employing hundreds of workers. The main goals within supply management are to control costs efficiently allocate resources and gather information to be used in strategic business decisions.
Business Dictionary: The process of obtaining and managing of products or services needed to operate a business or other type of organization. Elements of supply management include the actual products, information, budgets, and employees. The purpose of supply management procedures is to keep costs stable and use resources effectively to increase the profits and efficiency of the business or organization.
Based on those definitions, I think we can safely say that procurement (and purchasing) is a subset of supply management. It is also important to distinguish supply management from supply chain management, which is focused on the logistics and operations required to get the purchased goods and services from their origin to the place where they will be used by the purchasing organization.
Supply chain management: the management of a network of interconnected businesses involved in the ultimate provision of product and service packages required by end customers (Harland, 1996). Supply chain management spans all movement and storage of raw materials, work-in-process inventory, and finished goods from point of origin to point of consumption (supply chain). Another definition is provided by the APICS Dictionary when it defines SCM as the "design, planning, execution, control, and monitoring of supply chain activities with the objective of creating net value, building a competitive infrastructure, leveraging worldwide logistics, synchronizing supply with demand and measuring performance globally."
The trend in recent years has been to transition from purchasing to procurement (or from tactical buying to strategic acquisition) by adding the tools and processes to perform spend analysis, strategic sourcing, contract management, and supplier management. The next natural step in our growth as a function will be to add in some other areas of focus and responsibility - like risk management and collaboration with suppliers – so that we can describe our work as true supply management.
While tools and processes are important, it is the people that leverage them that turn the promise of benefit into a strategic advantage for their organization. Someone that has worked hard to get the education and experience necessary to call themselves a procurement professional will probably take issue with being labeled a buyer. Someday the same may be true of calling a supply manager a procurement professional.
The important thing about these transitions is to remember that anyone at any level can be a good buyer, procurement professional or supply manager. There are things that help, like college degrees and certifications, but ultimately a decision needs to be made by each individual whether they will push themselves beyond their current capabilities by using all resources available.
Not all of the resources require a monetary investment. Weekly webinars are free and easy to attend, blogs are abundant and there are 1,800 results when you search for procurement in LinkedIn groups (1,300 when you search for supply management). There are no shortage of people willing to share their opinions, and whether they agree or disagree with each other, it is important to absorb and process what you read. Do you agree? Disagree? Are you not sure you understand? All are perfectly good responses.
The important thing is to read and to question. For those of us brave (or crazy) enough to share what we think publicly, do your part to keep us honest and interesting. In the end, we'll all be better for it – regardless of what label we work under.
Related Posts
Comments
No comments made yet. Be the first to submit a comment