CONFERENCE: ProcureCon Direct (Torrey Pines, CA)
From Monday 14 August 2017 - 08:00am
To Tuesday 15 August 2017 - 05:00pm

by
This email address is being protected from spambots. You need JavaScript enabled to view it.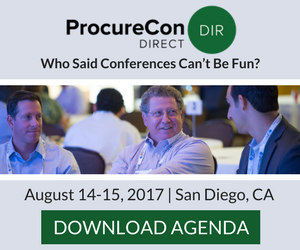 Name: ProcureCon Direct
Dates: August 14-15, 2017
Location: Hilton La Jolla Torrey Pines, CA
Website: http://bit.ly/2pySvl5
ProcureCon Direct is a peer-led forum for 100+ supply chain leaders & direct procurement innovators to share, network, and inspire. Sessions are focused on attendee collaboration to assess and integrate themselves within the rapidly changing strategic initiatives in the direct procurement landscape. While working with senior level procurement practitioners, ProcureCon Direct deepens the insight into direct procurement's maturation in the supply chain and its innovative role in revitalizing stakeholder engagement.
Learn more about what's in store for ProcureCon Direct 2017 by downloading the agenda!
Register with code PD17BMP to save 20% on your ticket!