ROUNDTABLE: Spend Culture Chats: Procurement and Operational Challenges in Tech (Procurify)
Thursday 22 August 2019, 05:30pm - 08:30pm

by
This email address is being protected from spambots. You need JavaScript enabled to view it.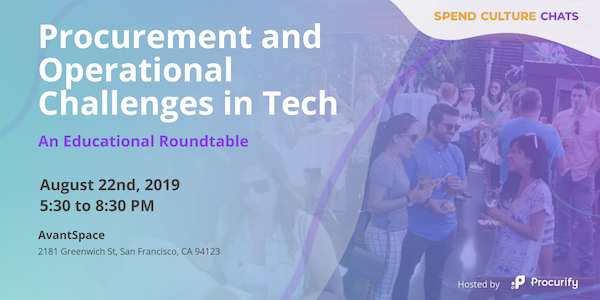 Procurement can be a huge value-add when it comes to an organization. It is a strategic driving force in many companies, as they are present at the front lines when it comes to impacting the Spend Culture of organizations.
However, as companies scale, there many operational challenges that finance and operations leader have to face in their day to day. For example, when it comes to managing the purchasing process, getting buy-in and alignment from other departments such as IT and finance, and also automating the process from procure-to-pay.
Join San Francisco's top procurement leaders in tech in this roundtable sponsored by AvantSpace on the challenges surrounding procurement as a function when it comes to fast-growth tech.
Tentative Agenda:
5:30pm - Networking and Snacks
6:00pm - Icebreaker Activities
6:30pm - Discussion Starts
What is Spend Culture Chats?
We wanted to provide a safe and inclusive space for finance, operations and procurement leaders to learn from each other the tactics, processes, and strategies to build a more proactive Spend Culture, including how to hire and retain the best people, how to build more efficient processes, and how to choose the right tools for your organization.
Our Core Values:
We're committed to facilitating an open and friendly space for leaders to connect, learn and have fun! Our core values in our growing community include:
Growth Oriented

Judgment and Ego - Free

Humility to Learn

Willingness to Participate
What Can You Expect from our Spend Culture Chats event series?
Check out the video here for a taste of the events - https://www.youtube.com/watch?v=181yYyzua-8
Organizers:
AvantSpace - https://avant.space/
AvantSpace is a boutique neighborhood co-working space in San Francisco. At AvantSpace entrepreneurs can design + collaborate in a professional, lively + innovative environment.
Procurify - https://www.procurify.com
Procurify is a SaaS spend management solution to help scaling organizations track, manage and control spending in through an accessible, convenient and manageable platform.