The Authors of Procurement at a Crossroads Featured on the Art of Procurement Podcast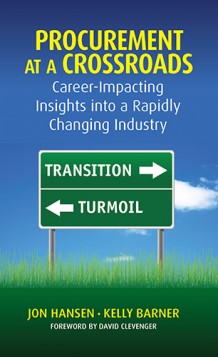 Phil Ideson, host of The Art of Procurement podcast, recently interviewed Jon Hansen and Kelly Barner, the authors of Procurement at a Crossroads. As the content of the book is designed to do, Jon and Kelly managed to engage Phil in a passionate discussion (debate?) about what is in the tea leaves for procurement's future, and what is likely to happen to the winners – and losers.
In an episode titled 'Is Procurement Becoming a Profession of Have's and Have Not's?' the authors discuss a wide ranging list of topics, including:
How Jon and Kelly came to work together to write Procurement at a Crossroads

The three tensions that have brought procurement to a critical juncture in terms of our future direction

How procurement is perceived by outsiders

Why 47% of procurement will become redundant – and what are the implications

Why change must come from within, and why we cannot and should not wait for permission

Jon and Kelly's perspective on whether or not procurement is truly strategic

Why an artisan skill set is necessary to forge a successful procurement career going forward

Why procurement pro's need to start acting like our colleagues in Sales or Business Development
CLICK HERE TO LISTEN TO THE PODCAST
BONUS! And if you still want more, listen to this bonus episode where Phil reviews Procurement at a Crossroads by sharing his thoughts on the book and key takeaways for everyone in - and out - the profession.