(3/3/2014) Manufacturing Outlook in the U.S.: Feeding the Chain
Buyers Meeting Point would like to thank the Directworks team for their help in researching and writing this article.

The five to ten year outlook for manufacturers in the U.S. is bright. The ISM Manufacturing Report on Business has shown growth in the sector for eight consecutive months[1]. This optimism is echoed by PwC's Manufacturing Barometer[2] and the MAPI U.S. Industrial Outlook[3]. Beyond these respected economic watchdogs, it is important to understand the events leading up to the favorable conditions being forecast. If those conditions do materialize, manufacturers need to use this time to build up the capacity, staffing, and sources of supply required to meet anticipated demand.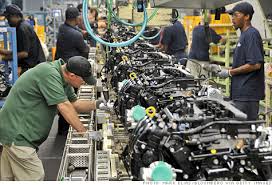 The opportunity started in China's manufacturing sector. Low wages, when compared with other developed economies, drove up global demand for Chinese manufacturing. Unfortunately, China committed to more production capacity than their labor force could support. The increased demand for workers drove up wages, a turn of events that changed the cost equation for companies looking for inexpensive manufacturing capacity. "China's one child policy has created a situation where the size of the workforce cannot keep up with the number of jobs required" says Greg Anderson, President of Directworks. "And even though they have altered the policy, it will take at least 20 years to right the imbalance." According to Antoine van Agtmael, an expert on emerging markets, labor costs in China are rising at an annual rate of 15%, while rates in the U.S. remain flat[4]. The additional labor costs, especially when combined with the complexities of longer time to market and less flexibility in response to customer demands, are driving buyers elsewhere.
Right now, U.S. manufacturers are positioned to benefit from this shift, but work needs to be done to handle the increased demand. Boston Consulting Group (BCG) estimates that "by 2015, average manufacturing costs in the five major advanced export economies that we studied – Germany, Japan, France, Italy, and the U.S. – will be 8 to 18 percent higher than in the U.S."[5]
The products that are the best candidates for U.S. manufacturing, whether they are 'reshored' or not, are those with low labor requirements, high shipping costs per unit, and high quality or flexibility expectations. The significant distance and cultural differences between the U.S. or Western Europe and China makes it more difficult to rectify quality issues through such an extended supply chain, and all orders naturally require longer lead times. If the U.S. can capitalize on this advantage with sufficient capacity and lower labor content, BCG estimates the opportunity may be worth $70-115 billion in exports and 2.5-5 million American jobs. "The need for more cost certainty is one of the major drivers of reshoring", says Anderson "and increased visibility into the supply chain can help create such certainty".
Although the preparations for increased demand may be a challenge, there are three clear areas where U.S. manufacturers need to invest for future growth potential. Expanding production capacity is the first step, but sufficient sources of supply and a larger, higher skilled workforce must also be developed to realize the full long term potential.
Production Capacity
Growing demand for U.S. manufacturing is expected to come from two sources: exports and domestic demand. Correspondingly, investments to increase capacity are likely to come from home and abroad. A recent Supply & Demand Chain Executive article credited the USA Today with the idea that "many foreign companies want to be closer to consumers in the world's largest market, while others are taking advantage of low energy costs and the high productivity of U.S. workers."[6] Local governments are also making funds available to companies that need to expand their manufacturing capacity. Connecticut Governor Dannel P. Malloy recently announced plans to provide $25 million in funding for the state's manufacturers. "Although Connecticut's manufacturers are among the best at what they do, a major ramp-up in production activity could pose a challenge for our smaller producers."[7] This investment in smaller manufacturers recognizes the need to feed the supply chains of larger U.S. based producers.
Sufficient Supply
If manufacturers are going to maximize the potential of their increased capacity, they need to have supply partners that can meet increased demand levels. Chrysler is an example of a U.S. manufacturer that has the internal capacity ready to meet existing demand, but lacks supply partners who can produce the output they need. All companies in the supply chain must be brought up to the same level of production for the operation to work. As Sergio Marchionne, CEO of Fiat and the Chrysler Group said in a January 2012 interview with Automotive News, "…the problem is that if you have one supplier who can't play, you'll block the chain."[8] As of February 13, 2014, he was still struggling to find the manufacturing capacity in North America to fuel his operation[9]. Chrysler presents the perfect example of a company willing to spend and grow, but finding that supply capacities have shrunk over time and are taking longer than expected to build back up.
Skilled Labor Shortages
The last piece of the opportunity puzzle is sufficient skilled labor to staff operations. The lower labor content that gives the U.S. an advantage over China reflects higher productivity rates due to automation and higher effective output per person. Automation also dictates the level and types of skills workers must have in order to fill open positions. Whether or not overseas manufacturers move their production lines to the U.S., they may take this opportunity to start new operations here in order to meet future demand. Foxconn, a well-known manufacturer of products for Apple, Hewlett-Packard, and Amazon, has made significant investments in opening U.S. locations[10]. The most desirable workers from a manufacturing perspective are those qualified to run and maintain equipment. Manufacturers like Foxconn may have to start investing in technical schools in order to meet their labor needs in the long term.
The opportunity presented by the forecast growth potential for U.S. manufacturers requires a new way of approaching the market. Not only must these companies start preparing their operations for more domestic and export demand, they must regard their supply chains with an increased level of scrutiny of capacity and risk. In response to the importance of having accurate capacity information about their suppliers, many manufacturers are expanding their data collection methodology. They have learned to function like auditors, modeling suppliers' data to validate throughput claims and assessing capacity constraints for themselves by visiting supplier locations rather than trusting the numbers suppliers provide.
The labor capacity constraint served as the turning point for China's manufacturers. If the U.S. is to avoid making the same mistake, manufacturers must plan to meet short term demand increases and look for opportunities to continue expanding in the long term, making sure that capacity, labor, and supply continue to fuel rather than constrain their growth.
---
[1] http://www.ism.ws/ismreport/mfgrob.cfm
[2] http://www.sdcexec.com/news/11312641/pwcs-manufacturing-barometer-likes-outlook-for-2014-majority-of-respondents-forecast-positive-own-company-revenue-growth
[3] https://www.mapi.net/research/publications/us-industrial-outlook-december-2013
[4] http://www.sdcexec.com/article/11305247/the-share-of-executives-who-are-planning-or-considering-to-reshore-rose-to-54-percent-compared-to-37-percent-two-years-ago
[5] https://www.bcgperspectives.com/content/articles/lean_manufacturing_sourcing_procurement_behind_american_export_surge/
[6] http://www.sdcexec.com/article/11305247/the-share-of-executives-who-are-planning-or-considering-to-reshore-rose-to-54-percent-compared-to-37-percent-two-years-ago
[7] http://westfaironline.com/60703/malloy-proposes-25-million-manufacturing-fund-2/
[8] http://www.autonews.com/article/20120109/OEM02/120109808/chrysler-expansion-slowed-by-supplier-constraints-marchionne-says#
[9] http://www.cbc.ca/news/business/sergio-marchionne-says-no-deal-yet-on-chrysler-expansion-1.2535622
[10] http://wallstcheatsheet.com/stocks/apple-supplier-returns-some-manufacturing-to-the-u-s.html/?a=viewall