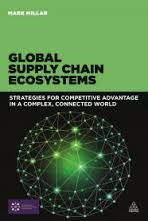 …today's supply chains encompass complex webs of interdependencies, frequently spanning the globe, designed and deployed to optimize critical attributes – such as speed, agility, and resilience – that drive competitive advantage. (p. 11)
Global Supply Chain Ecosystems: Strategies for Competitive Advantage in a Complex World by Mark Millar provides a multi-dimensional look at supply chains. The ecosystem concept was originally used by the Financial Times to describe the increasingly complex nature of business in general. When it is applied to supply chain operations, it provides us with the idea that chains are more spherical than linear and non-consecutive.
One of the things I realized early in my reading of the book is that Millar is writing from a much different perspective than the authors we am used to hearing from. His biography lists him as a speaker, presenter, and board member. His view of supply chains in general, and their potential value contribution to the modern competitive enterprise, is more elevated.