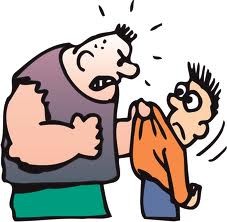 Clive Rich and Simon Horton, two experienced negotiators from the UK, have a series of podcasts called 'Negotiation Natters'. Now, this is not a typo on my part. Although negotiation most definitely MATTERS, these podcasts feature Clive and Simon chatting about negotiation. While their style is casual, their content is not.
In a podcast available here on Sound Cloud, they talk about a challenge many negotiators have to face at some point –professionally or otherwise – and that is aggressive negotiators. They start by talking more about this approach and the causes of it and move on to effective ways of reacting.
There are different types of tough guys, including those who are manipulative, insulting, disingenuous, stubborn, or just plain aggressive. Facing someone who negotiates this way is awful, and makes it hard to do your job, which is exactly what a 'tough guy' negotiator wants. If you are distracted by their demeanor, you are unlikely to be able to execute your own strategy. It is not an indication of a good negotiator to be unable to discuss terms without bullying.
Clive and Simon's advice is to separate the tactic from the issues on the table. Make their behavior the focus before you try to discuss anything else. And don't worry if you're not an aggressive type yourself. Soft approaches may even be better in response. Diplomatically point out that the tone or volume of the discussion is not advancing your cause and propose taking a break to reset.
While reducing the tension makes it easier to focus on what really matters, there is another reason to address this troublesome dynamic. Aggressive negotiation tactics are aimed at achieving short-term gains and not on relationship building. They provide a warning sign about what implementation could be like.


We all know how important supplier collaboration and relationship building are. So a simple statement like, "we are really looking for a partner in this category, and I don't think the direction this conversation is taking is heading in that direction. Perhaps we should pause here and reconsider our positions before moving forward" can put you back in the driver's seat without forcing you out of your confrontational comfort zone.

If you are interested in more on negotiation from Simon, check out our review of his book, 'Negotiation Mastery'.