Electronic regulations around the globe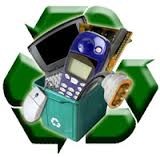 We live in a technology age. That is not big news. In some areas, the electronic record is considered official and binding. For example, for the last 4 or 5 years we have filed our taxes electronically and that has been adequate and official. In other areas, they still want an original signature on a paper, with multiple copies. I know when we have gone to refinance our house, the banks require paper copies.
This week's esourcing wiki is A Compliance Primer - Part 2 . It discusses the beginning of regulating this area almost ten years ago. The regulations cover a range of concerns from maintaining electronic files and also how to dispose of those records as well as the equipment.
There are many components of our computer and electronic hardware that should be recycled. There are codes of conduct that protect our environment. Some areas of the globe enforce them more stringently than others. Several times a year, our community hosts a recycling day specifically for old televisions, phones, video games and so on.
In the United States, The EPA has a good deal of information recycling of hazardous waste, including technological waste or recycling. There is also helpful information on the rules and regulations.
What has your organization done about electronic records? Do you approve them or do you require paper? What has your team done about recycling old electronic equipment?
Share your thoughts by commenting below or tweeting us @BuyersMeetPoint.
Related Posts
Comments
No comments made yet. Be the first to submit a comment
By accepting you will be accessing a service provided by a third-party external to https://buyersmeetingpoint.com/