By accepting you will be accessing a service provided by a third-party external to https://buyersmeetingpoint.com/
Event Notes: Sustainable Procurement: Doing Good for the Business & the World
You might not think so, but watching the mainstage speakers from AribaLIVE in LasVegas this week was an excellent substitute for being there in person. Somehow the picture in picture slides plus camera angle streaming video captured the energy from the live audience and the enthusiasm of the speakers.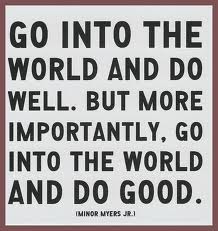 On Wednesday, we heard two inspirational stories rolled into one presentation. The first story came from Susan Lasecki-Corio, Head of Strategy Performance and Group Supply Chain at Anglo American. Anglo American is one of the world's largest mining companies, focusing on platinum group metals, diamonds, copper, nickel, iron ore, metallurgical and thermal coal.
You can view the slides from the presentation here.
Her group's transformation from decentralized to center-led was amazing, considering the fact that they didn't have the talent they needed in house, didn't want to use external consultants for the long term, and didn't have the option of hiring new talent because it wasn'tan option in the market where they operated. The group went from 600 decentralized procurement professionals to a central group of 200, where category management teams formed a consistent face to the market, all the while leaning on the members of the supply chain out in the business units.
This 'people challenge' ended up being the foundation for their success. By investing in their existing resources, they created a strong team that believed in the mission of their organization and took ownership of the change they were leading in the company.
The two major parts of their transformation were strategic sourcing and category management. As they became increasingly strategic and holistic in their approach, they were able to unlock the value and potential at all points in the supply chain. The next step in their transformation will take them beyond savings through supplier relationship management and global procurement (meaning local procurement in many locations around the globe).
The second inspirational story came from one of those local suppliers, a company from South Africa called La Fancy Kay. Their CEO, Kholo Mabilo, told the story of her success, from the ground up. You can watch her speech here.
La Fancy Kay makes VIP toilets for use in the mines. Although they are a small supplier, their partnership with Anglo American has changed their lives as individuals and as an organization.
Interested in more on sustainability?
There were a number of blog posts on the topic this week:
'Drivers of Incorporating Sustainability in Procurement Organizations' - eSourcing Forum
'Sustainability and the Supply Chain' – Strategic Sourceror
'Sustainable Ideas' - ProcurementLeaders
Related Posts
Comments
No comments made yet. Be the first to submit a comment