First Impressions are Important and Lasting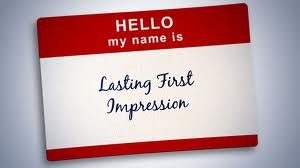 I recently attended a supplier presentation that was horrendous. Their product was amazing but they really blew it. The team interrupted and contradicted each other. They were unable to get their technology and projector to work. They were not prepared for Plan B. It was a terrible first impression.
The good news of the story is that they revived themselves and they were awarded the business after a fashion. So how do you recover from a bad first impression?
This week's blog of the week is How to Overcome Making a Bad First Impression by Roz Usheroff. She talks about areas to consider in making an impression, whether it is the first on ongoing.
Of course not everyone is going to like you. There are ways to improve on the first impression but it does take time. The supplier I mentioned above did make amends over time. The first thing they did was to follow up with the requested information. At that time, they acknowledged how poorly they did, apologized and offered their lessons learned.
What 'bad first impression' situation have you experienced and how did it resolve itself? Is there something you learned that you can share with others? Perhaps you were not prepared, or were dressed inappropriately for the environment? What can you share with others?
Share your thoughts by commenting below or tweeting us @buyersmeetpoint. 
Related Posts
Comments
No comments made yet. Be the first to submit a comment
By accepting you will be accessing a service provided by a third-party external to https://buyersmeetingpoint.com/