By accepting you will be accessing a service provided by a third-party external to https://buyersmeetingpoint.com/
Following up is the game changer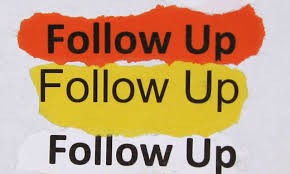 We have all had the experience when we asked someone for something or a call back and it did not happen. It always is a surprise and feels good when a person actually does follow through on what they said they were going to do. We certainly set that expectation on others so if you turn that around to yourself, how do YOU do with the follow through?
This week's blog pick is from the Coaches Corner in Affluent magazine, "Take your follow up skills (And your success) to the Next level".   It has some clear suggestions on how to be better at follow up.
One example I really like is about stating the time you will follow up. If you are too exact, you may be detained and miss it. If you say you will have something by the end of the day and you don't, you should still contact them and let them know you could not make that time but give them a sense of when you will. That way they know you have not forgotten them.
That occurred just recently to me. I had to get 10 pieces of information for a very frustrated customer. By the end of the day, I could give them 4 of the pieces which were the bulk of the cost of the order. The remaining pieces I got by the end of the following day. I left voicemails so they could hear my tone of voice and I also sent emails. They were very satisfied by the end of the process.
In general, follow up falls into the saying "Do what you say and say what you do". People appreciate it when they can depend on the response you have offered and promised.
What tricks do you have to help with follow through and making sure your customers (external and internal) can depend on you and get that communicated loud and clear?
   Share your thoughts by commenting below or tweeting us @buyersmeetpoint. 
Related Posts
Comments
No comments made yet. Be the first to submit a comment