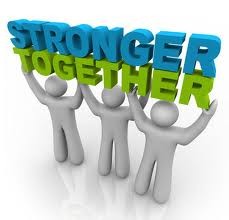 The Seven Habits of Highly Effective People, first published in 1989, is a self-help book written by Stephen R. Covey. It has sold more than 25 million copies in 38 languages worldwide, and the audio version has sold 1.5 million copies, and remains one of the best selling nonfiction business books.
The approach continues to be pertinent in every day life at work and at home. Buyers Meeting Point will be reviewing each of the Seven Habits over the next few months.

Habit 6: Synergize
We hear that word alot. Such a buzzword but what does it mean and how can it improve my situation at work or at home?
Basically it is that two heads are better than one and because everyone is different, the whole is stronger because of it - if applied properly! In sports, it clearly is demonstrated through teamwork. When everyone on the team is working together and value is placed on their individual strengths, a winning combination is created.
In this article summarizing Habit 6, there are examples of synergy in music between one musician versus the whole orchestra. Another example given was the creation and producing of the three movies for Lord of the Rings. Well done effort and a risky one for sure, taking a classic series of novels, representing the magic and creating a different medium to share the story.
Climbing Mount Everest, or any of the major peaks, is definitely an example of synergy. It takes a whole crew, many months of planning and funding to put just a few at the top. This video of Rex Pemberton describes his preparation and climb to the top. He is the youngest Australian, at 21, to have climbed to the top. At the end, he also mentions that the job is only half done. Getting down is just as important as getting to the top!
Sometimes it seems like more work to have others involved and it is easier to just do it by ourself. I know I have felt that way. However, usually the job is less tiring and completed faster if more are involved.
What examples of teamwork have you experienced? Do you have any 'aha' moments that demonstrated the strength of working together?
Comments
No comments made yet. Be the first to submit a comment