Rules and Regulations make the world go around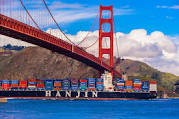 About 90% of goods are transported with ocean freight for global commerce. With all that activity, there has to be some way to control the comings and goings.
There are rules and regulations that procurement professionals need to understand and to be aware of when conducting business internationally.
 This week's esourcing wiki is A Customs and Security Primer: Global Security Regulations . It reviews a few of the various rules and regulations for importing and exporting.
 One agency that is highlighted was founded by the United Nations is the International Marine Organization. The IMO slogan is "safe, secure and efficient shipping on clean oceans." They have implemented many programs to ensure safety, some as simple as mandating the ratio of passengers to life boats. In addition, they do a lot to implement environmental programs to maintain the quality of marine life. They recently met to finalize a draft for operating procedure for ships in the polar region.
The IMO has two universities, The International Maritime Law Institute and the World Maritime Institute. Both of these schools promote the programs implemented by the IMO.
The IMO is just one organization that helps to create, manage and enforce rules and regulations to improve the business of international trade. What agencies have you utilized? What benefits did you find in their services?

 Share your thoughts by commenting below or tweeting us @buyersmeetpoint.
Related Posts
Comments
No comments made yet. Be the first to submit a comment
By accepting you will be accessing a service provided by a third-party external to https://buyersmeetingpoint.com/