By accepting you will be accessing a service provided by a third-party external to https://buyersmeetingpoint.com/
Six Tips to Getting the Most from Outsourcing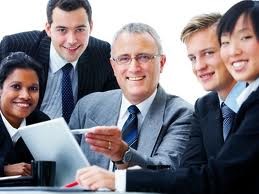 Today's eSourcing Wiki-Wednesday topic is The Basics and Advantages of Procurement Outsourcing. This is something that has been reviewed and utilized for several decades at this point.
Many organizations realized they should outsource administrative functions such as payroll and accounting and IT/Telecom. This allows the key resources to focus on the core business strategy and really drive them to the next level. The same can be said of the procurement function, either in part or as a whole.
If a company is going to do that, they must be careful to arrange it properly to truly take advantage of the benefits and not to get bogged down with inefficiencies. this article offers Six Top Tips and is focusing on IT outsourcing. However, I feel it can be utilized for any business function.
When done correctly, the various individuals truly work as a team. If you look at the picture above, you can not tell who is an internal associate and who is an 'outsourced' resource.
Top tip #1: Define SLAs and OLAs
A service level agreement (SLA) is the foundation of any outsource contract and provides the standard for expected service levels. This must be agreed on between both the outsourcer and client, and once established, will outline the requirements such as time-to-respond and mean-time-to-repair.
Top tip #2: Communication – a two-way street
Communication is an important component of a successful outsource contract and should be a 'two-way street' whereby feedback is given from both the outsource provider and the client. If communication is not clear and well-structured from all sides, issues and problems may 'slip through the cracks' and impact the business. This in turn will impact service delivery, which may fall below expected levels, resulting in poor outcomes.
Top tip #3: Appropriate skills levels
It is vital for the outsource consultant to have the appropriate skills when engaging with a client. If consultants are not equipped with the required skills to match the needs of the client, they will not deliver the required services efficiently or effectively.
Top tip #4: Culture fit
If the culture fit between the client and outsource provider is not aligned, it can lead to poor service delivery. Outsource providers should also be flexible and sensitive around the issue of culture fit, and if there is a potential problem, to proactively remedy.
Top tip #5: Measurement of service
All aspects of the contract, including the SLA and OLA, should be monitored on a regular basis to ensure the highest levels of overall satisfaction.
Top tip #6: Maintain the management of the contract
Customers who maintain control and incorporate regular communication around this will typically receive higher levels of service and greater value than organisations that don't.
Comments
No comments made yet. Be the first to submit a comment