By accepting you will be accessing a service provided by a third-party external to https://buyersmeetingpoint.com/
What if the US Government Embraced Strategic Sourcing?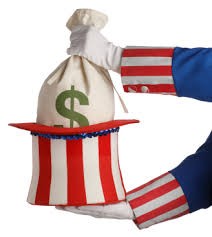 Editor's Note: The application of strategic sourcing and strategic procurement in the public sector have generated a significant amount of discussion from practitioners, thought leaders, and solution providers. If you are interested in reading more about the opportunities that may exist, we recommend Generating Economic Benefit and Growth Through Smarter Public Sector Procurement, a white paper by Colin Cram.

Preface
The following op-ed is best filed under the "what if" or alternative history genre.
There are innumerable articles that describe the difference between public and private procurement. Explaining the origin of how those differences developed would be a fascinating topic in itself. Of course, there are thousands of folks in public procurement who do great work. This commentary is not directed towards any of our hard-working public procurement brethren.
It's fantasy. It's just having fun with an idea.
The Problem, the Premise
Although the US Government is the largest buying organization in the world, it does not enjoy a reputation for efficiency or thrift. Nearly everyone has heard the stories about the federal government paying $436 for a hammer or the $640 for a toilet seat. (1) According to US Rep. Derrell Issa, government fraud, waste, and abuse accounts for around 7% of all government spending or about 228 billion dollars annually. (2) But what if that changed? What if the US Government magically adopted the private sector's zeal for Strategic Sourcing?
What if they tore up the Federal Acquisition Regulations and started fresh with new mandate: everything gets competitively bid; cost savings is the number one objective. Would you feel better about your federal tax dollars if you were sure they were being absolutely optimized through a robust strategic sourcing process that balanced transparency and social concerns at the same time?
Meet the New Sourcing Team
If the government did adopt private sector sourcing practices, it would need new leaders to complete the transformation. I'll play the Chief Procurement Officer in this work of fiction.
I'll need a staff. Most critical will be great Commodity Managers - the non-commission officers of the procurement world. These folks will be sourcing experts chosen from a variety of industries and backgrounds and will form the backbone of the most highly professional Sourcing Corp ever assembled. Yes, they will be well-compensated, but they will deliver a savings multiple several times their salary and benefits every year. They will be assigned a commodity or scope of spend within their purview. Their objectives will be simple:
Deliver at least 3-5% cost savings from their commodity or scope each year

Collaborate closely with stakeholders on supplier selection; cost, quality, delivery, and overall total cost of ownership will be the primary selection factors

Ensure a high percentage of spend under management is competitively bid on rotating basis

Keep robust documentation for all of the above.
Unlock the Power
The first order of business is to get our arms around the spend categories. Because the US Government buys everything from toilet paper to Joint Strike Fighters, this will not be easy. There will be no choice but to create a taxonomy – in fact, the Mother of all Taxonomies – to understand the sourcing groups and supplier base.
A spend management tool will also be essential. Once implemented, all the Commodity Managers will have the ability to access the spend data by sub category, by supplier, by location for the scope under their management. With these tools at their disposal, the full leverage of the US Government becomes realized for first time. A frightening thought.
Strike a Balance
A couple factors have bedeviled public procurement from the beginning. Among the most difficult issues is how to allow for transparency and legitimacy when big dollars and different interests are at stake? My answer is simple and is used every day when hiring employees. Develop a standardized score card that quantifies the supplier selection factors and how each candidate was scored.
How to distribute contact awards is another problematic issue. How should the federal government award business geographically? How much should social concerns weigh in to the award decision? All these factors need to be evaluated and decided – just not by procurement.  
In this parallel universe, the Commodity Manager presents a business case and the savings opportunity to a government contract review board. This wise, malevolent body will approve all large contact awards. They will also consider the potential impact to all the stakeholders. They may ask procurement for multiple award scenarios that balance the savings opportunity vs. non-economic concerns.
Back to Reality
No one likes taxes, but if this scenario actually happened would you feel better about the way your taxes were spent?
Some elements may not such be pure fantasy. The European Union recently adopted some of the reforms described in this piece. (3) Even some of the more radical elements like outsourcing non-core services were debated and considered (but not implemented). The size and role of government is undoubtedly the biggest political debate of our time. Adopting a more efficient, cost conscious approach to government spending is something nearly everyone can support.
References
http://www.boston.com/bostonglobe/editorial_opinion/oped/articles/2010/05/26/congresss_version_of_the_640_toilet_seat/
Related Posts
Comments
No comments made yet. Be the first to submit a comment