What part of our current economic conditions are speaking to you? Are you listening?
It is impossible to turn on the tv, check a news site or pick up a newspaper this week without being confronted by a wave of bad economic news. Here are just a few example headlines from August 10th:
"Stocks Dive on Europe, Economy Fears" - WSJ.com
"Shares Plunge as Eurozone Woes Return" - FT.com
"Discovering the Real reasons for the Market Plunge May Take Time" - TheEconomist.com
So despite the fact that you feel a little queasy each time you check in on your 401K, what reaction are you supposed to have - specifically in your role as a procurement or supply chain professional?

Last week, BMP partner Charles Dominick from Next Level Purchasing posted a blog entry about whether procurement's desire to see prices lowered is at odds with the general strength of the economy:
"As you can see, after months of steady price increases, there was a sudden turn that began in June. While procurement professionals were frustrated this past Winter and Spring with upward price pressures, the easing of those pressures occurs contemporaneously with concerns about the strength of the economy.
So, is what's good for procurement (declining prices) bad for the economy (economic instability and investment market panic)? If so, you have to be careful what you wish for."
My first reaction was to read more about the indexes he cited in the article, and feature the Producers Price Index in yesterday's Wiki-Wednesday article. Knowing that I don't make as much use of economic information as my B-school teachers would probably like, I started to do some research into indexes used by procurement professionals. I was pleased to see that the Purchasing Managers' Index and Non-manufacturing Indices popped up. So I'm good there, because we cover the release of ISM's Non-Manufacturing Report on Business each Month. But what else do we need to know?
I found a great blog posting by Jason Busch of Spend Matters from a couple of weeks ago: "Friday Rant: Economic Indicators and News Sources Procurement Organizations Must Focus On". Here is an excerpt, but take a look at his full posting. It is a great, prioritized listing of the economic information we should be familiar with:

"Over the past few months, I've given a presentation that tackles the intersection of commodity management and sourcing strategy several times. Compared to most of the dry topics I usually talk about, it's sparked some great discussions and ongoing dialogues, and is definitely a topic that procurement leaders clearly know they need to think more about. But most don't have the background knowledge or tools available to incorporate and manage commodity information as a core component of sourcing and supplier management strategy. Even though technology can play a useful role in a number of areas (e.g., core commodity management platforms, advanced data collection/sourcing optimization), I believe the biggest barrier to most companies is simply awareness. And the awareness I speak of here isn't tools awareness -- it's general economic awareness."

My advice? Listen to Charles' and Jason's advice and start taking economic indicators into consideration as you manage spend and categories. But don't allow yourself to be overwhelmed. Pick one report or index that is relevant to your realm of responsibility or industry to become familiar with. Many of these reports are hard to read and even harder to pull value from. Reading a report over time will help as many of them are trend based, and all of the value is in the variance from one month to another rather than in any one measurement. And reach out to your colleagues, because discussing the reports is even better than reading them on your own.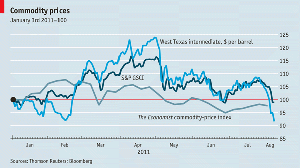 Related Posts
Comments
No comments made yet. Be the first to submit a comment
By accepting you will be accessing a service provided by a third-party external to https://buyersmeetingpoint.com/