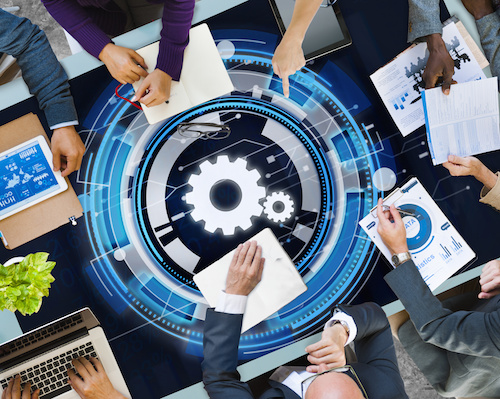 There will always be conversations within procurement that declare themselves 'edgy' or 'progressive'. In truth, however, the determination is made – not in the opinion of the person making the statements – but by the responses they elicit from the audience. So much of procurement is a flow; from on-premise software to SaaS to the Cloud. From decentralized procurement to centers of excellence to Procurement-as-a-Service. The idea of progressive blurred lines often extends to the relationship between procurement and our technology as well, but maybe it is time to rethink our relationship with the adoption of new solutions – particularly in the face of increased automation.
The rise of automation usually conjures up one of two images: either a 1950's era dream kitchen, where robots whir about so a nice family can enjoy more leisure time, or the complete opposite: a dystopian struggle for survival against robots gone bad and in rebellion.
Neither of these extremes comes close to reality – particularly since most automation has now left physical robots behind and come to fruition as process automation, artificial intelligence, or smart machines. What we need to do, as professionals, is to ensure that our relationship with automation is neither passive acceptance not fruitless resistance, but instead a healthy, engaged kind of competition.
Any knowledge worker who is truly afraid of being replaced by automation is either underestimating their true value to the company – or they are right. Rather then approaching automation with caution or holding it at arm's length, procurement should actively pursue all opportunities to automate: and demand more of their solution providers in the process. Automation is new enough to be revolutionary for most companies, but far too established to accept solutions that require hacks or kludge work arounds. Amazing things are already happening within the world of big data analytics and business intelligence – procurement should be able to seize the momentum without having to start from scratch.
Rosslyn Analytics, provider of an award-winning set of self-service tools designed specifically for business users to easily extract, integrate and cleanse data for analytics using the RAPid Cloud Platform, has presented me with the challenge of increasing dialogue within the procurement community about our relationship with automation. They have placed no constraints on me regarding the discussion, preferring an open and honest exchange of ideas that has been long overdue.
Over the coming weeks I will foster an active discussion around procurement's relationship with automation: both what it is and what it ought to be. I will share all related content and commentary here on Buyers Meeting Point and on Twitter using the hashtag #AutoProcure.
At this point in the conversation, I have identified three topics/questions for discussion. All viewpoints are welcome.
Point 1: You Can't Cede Control and Still Be a Procurement Leader
We come to this discussion in the midst of a shift in procurement talent from tactical to strategic. At the same time, automation is altering the level of control companies can have over their own data. Be honest with yourself: are you thrilled about the opportunity for greater control or are you some combination of annoyed and apathetic? The automation available to procurement should not be taken as an opportunity to relax, but rather to push forward into the kind of work that machines are not yet capable of performing.
There's actually a connection between the talent shift and the expansion of automation: if you aren't enthused about the power and potential of automation, you're also probably not all that eager for procurement to elevate their role or expand their exposure in other ways either. Automation accelerates the pace of data availability and decision making enough to be a total game changer. And yet, don't mistake me – maintaining control and working with third parties are not mutually exclusive approaches. In fact, if procurement wants to increase their control over the things that matter (strategy, data analytics, forward planning) they will have to outsource and automate the rest.
Question: Where should you embrace the capabilities of automation, and what is holding you back from simultaneously letting go and seizing control?
Point 2: How I learned to stop worrying and love the machine
Let's assume that the automated capabilities of technologies such as spend analysis are actually replacing the kind of services that would have been completed by low cost labor rather than strategic knowledge workers. Automation handles the process as a whole and flags as exceptions any transactions or details that it has been programmed to leave to human decision makers.
Those humans – strategic procurement professionals – need to both configure the automation to manage their processes properly and also ultimately be able to trust that the automation will work. This requires more of an understanding of automation – not less. The truth is, whether they work through their own IT function or a services team at a technology provider, it isn't the technology that will be revealed as trustworthy or otherwise: it is procurement's logic and understanding of the processes they played a role in automating.
Question: Do you feel prepared to handle truly automated procurement processes or do you feel concerned about having to put your trust in a machine?
Point 3: Automation is the logical next step
Automation should be an easy decision. It is faster, less expensive, and less likely to fall prey to human error. But the track record of technology providers – too many of which have overpromised and under delivered – has created a wall of skepticism that we have to get past.
All solutions are always evolving, but the speed of evolution can accelerate or decelerate. When it comes to analytics, the software market is at a point where innovation will accelerate because so much investment has gone into developing smarter technologies. By enabling so many solutions to be provided as a service, with minimal if any up front investment, less risk, and no barrier to switching providers, the only reason to hesitate is procurement's own bandwidth and preparedness to flip the switch on automation.
Question: Why aren't you actively transitioning all procurement solutions to automated alternatives? Are these circumstantial barriers or obstacles of your own creation?