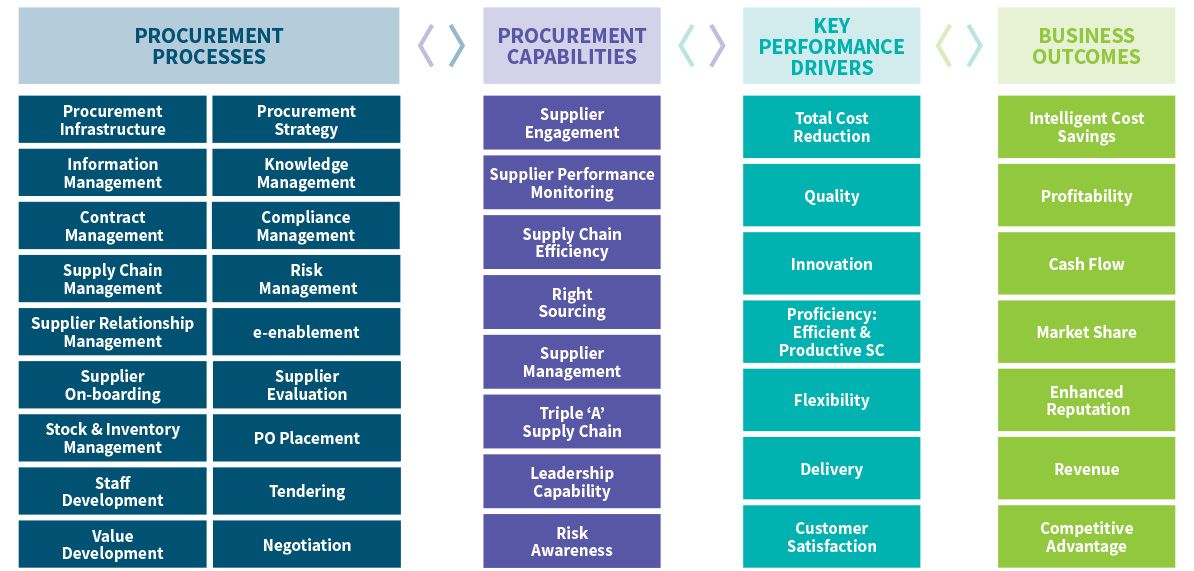 In a recent webinar, Rosslyn Data Technologies unveiled their "Procurement Value Identifier" (PVI): a new tool designed to help procurement teams connect desired business outcomes with key performance drivers, procurement processes and capabilities. [Click here to view the webinar on demand.]
The tool opens with the procurement maturity model defined by Gerard Chick and Robert Handfield in their book, The Procurement Value Proposition (2015). The model characterizes four levels of procurement maturity and associates each with their current value proposition and the role of enterprise spend management. In the webinar, Chick reinforces the importance of procurement's maturity progression in pursuit of business objectives. [Click here to download the Procurement Value Identifier.]
There are two core points in the PVI tool that stand out, and both play a key role in procurement's achievement of any value-driven strategy:
1. The PVI tool first identifies a business outcome and then defines the performance drivers, capabilities, and processes that will enable it.
Too often, procurement is focused on benchmarking our processes and skills against 'leading' peers. This does foster improvement, but it may or may not position us to deliver a desired outcome. By starting with a declared end goal, we ensure that all investments are aligned behind that fixed point rather than allowing diluted progress across a wide range of process and capability areas.
2. Savings is just one of seven business outcomes empowered by the PVI tool.
Procurement's total contribution to operational health has long been sidetracked by the drumbeat of savings. Savings, or "Intelligent Cost Savings" as defined by the tool, are critical and remain part of procurement's mandate. However, they are not alone – nor can they always be pursued as a silent secondary objective. The other business objectives include profitability, market share, and enhanced reputation. Naturally, these will require very different processes and capabilities on procurement's part than savings.
When procurement invests in an effort to improve our capabilities and processes by strengthening what is currently in place, we end up better positioned to deliver more savings – the objective that most procurement organizations were founded to achieve. If our goal is to drive alternate objectives, such as cash flow or competitive advantage, very different investments are required. Only by holding ourselves accountable to purposefully selected business outcomes and aligning procurement with them can we significantly change our destination.
To receive a copy of the valuable "Procurement Value Identifier" tool and hear additional live insights in advance of the general release to the global procurement community, register to attend Rosslyn Data Technologies' webinar on November 15 at 9am ET | 2pm GMT.