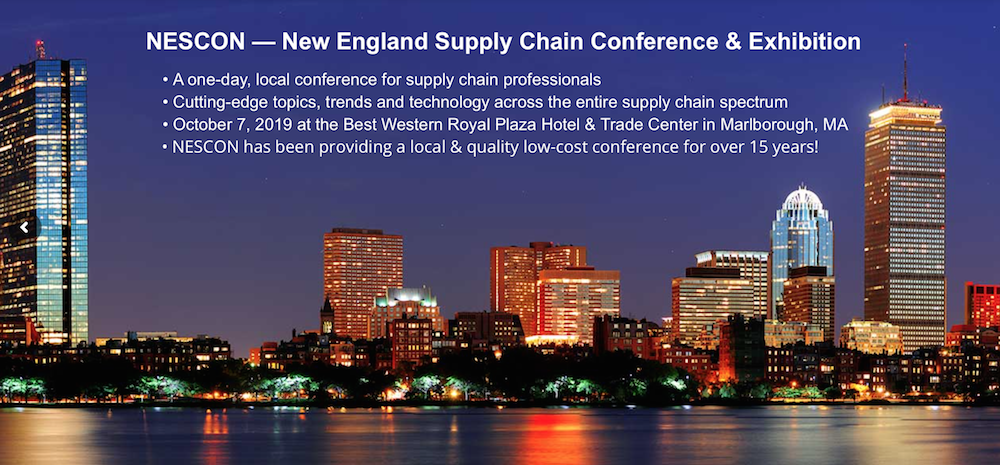 NESCON 2019: From "How to" to "How to Imagine" the Future of Supply Chain
As Dave told me, "The aim of the conference is to expose everyone, regardless of their organizational station, to the strategic thinking of senior practitioners and thought leaders about where SCM is headed. The objective is to have all SCM team members thinking progressively about how they can perform better and envisioning professional opportunities."
The conference's transition is evident in the four tracks: procurement, operations & logistics, SCM cutting edge concepts and SCM 101, each of which features leading speakers from in and around the Boston area.
The day starts with a morning keynote from Jeff Carr, President of Economic & Policy Resources, Inc. The keynote description teases ""you probably won't have read it in the Wall Street Journal yet" data and prognostications – a critical perspective that today's leading supply chain professionals can't do without.
After that we'll move to a CPO panel discussion focused on "The Most Significant Challenge in Front of SCM to 2025". Picking just one challenge will be a challenge in and of itself for confirmed participants Jonathan Hughes, Partner and Strategic Sourcing & Supply Chain Management Practice Leader at Vantage Partners; Andrew Bartolini, Founder and Chief Research Officer at Ardent Partners; and Kevin Lyons, Ph.D., Associate Professor PP, Supply Chain Management from Rutgers Business School, Rutgers University.
Maybe as difficult a challenge will be selecting between the speakers and topics in the breakout sessions. I'm looking forward to hearing Nada R. Sanders, Ph.D., Distinguished Professor of Supply Chain Management at the D'Amore-McKim School of Business at Northeastern University present "Humachine: The Enterprise of the Future". I hear she has a book coming out on the topic later this fall, focused on keeping the human element alive even as we embrace more and more technology.
For all my desire to plan in advance, one of the sessions provides a good reminder that sometimes we have to navigate in uncertain conditions. Greg Hartunian, CEO of Smart Software, will present a luncheon keynote on "Planning for the Unplannable". As Greg points out, "How do you plan optimal inventory levels and purchase quantities for thousands of items, when demand is intermittent, constantly changing, or affected by unexpected events? Random, sporadic demand is the worst case scenario for planning and procurement, and leads to excess inventory levels, and costly stock outs."
There is still time to register for the event, and the agenda, full speaker line up, and breakout session details can be found at https://www.newenglandsupplychainconference.org. If you are planning to attend, reach out and let me know so we can meet face to face during the conference.