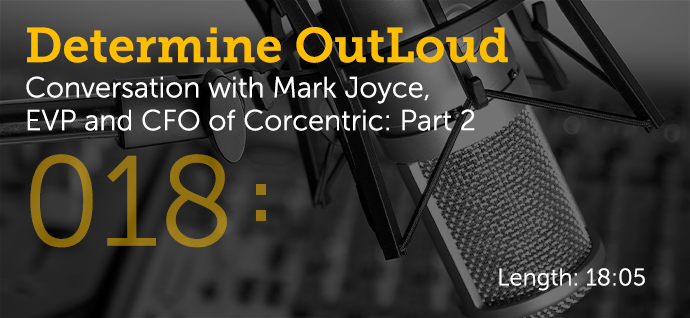 This content was published on the Determine blog on September 19, 2019
In a continuation of our discussion with Corcentric EVP and CFO Mark Joyce, we leave our focus on how the CFO role has changed in the digital age and we pick up the very popular topic of how finance and procurement can work together better.
While procurement is accustomed to thinking of finance as something of a brick wall, there is nothing to be defensive about in this CFO conversation. With data and analytics at the foundation of most corporate roles today, all corporate functions have a lot more in common than they realize, including a shared desire to impact as many parts of the organization as possible.
In Mark's own words…
"Regardless of where procurement reports, their objective should be the same, which is to ensure the goods and/or services an organization is investing in or acquiring meet their requirements. In a collaborative organization, it shouldn't matter where procurement reports, because everybody should be involved at the appropriate level and share ideas and work towards common objectives."
In addition to the fact that, as CFO, Mark characterizes most spend as "investment", in other words, of strategic importance to the enterprise, he discusses an interesting perspective on total cost of ownership that is not to be missed: what does it cost the company to make a change – whether in response to positive or negative conditions.
In the second part of our discussion with Mark, he addresses:
How the prevalence of "as-a-service" contracts has changed the way companies measure the value of their contracts.
How procurement's role and priorities may be different in long term planning situations v. more straightforward, shorter term decisions.
The importance of making sure a company is prepared to act upon what they have set out as their chosen strategy.
Click here to listen in.