By accepting you will be accessing a service provided by a third-party external to https://buyersmeetingpoint.com/
Book Review: Building a Magnetic Culture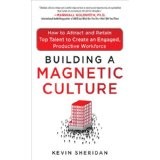 When you walk into a place - school, restaurant, office - there is a certain 'vibe' that you can pick up on instantly. It is a product of the culture and the management that is there. 
Kevin Sheridan has created a thought provoking, easy reading novel that is straight forward and down to basics. The book offered terrific practical and insightful guidelines. With application, Sheridan's ideas have shown to dramatically change the culture in an organization. There are case studies throughout the book, such as Pepsi, Coors, Waste Management, and Groupon. They demonstrate how to turn the concepts into reality.
In this book, an employee's performance is tied to their level of engagement. There are associates that are very skilled at what they do but overall, their contribution to the business goals is diminished if they are ambivalent or disengaged.
The workforce is divided into three groups and a few of the characteristics are as follows:
Engaged:
Self-motivated
Net Promoters of the company's brand
Awareness and personal commitment to their engagement level
Welcoming and supportive of new employees
Ambivalent: I really did not like this label as it is quite negative. This is where 60% of the workforce falls.
Do assigned tasks and not much more
Rarely volunteer for extra assignments
Watching the clock
Disengaged:
Negative attitudes about their job
Focus on problems
Actively share their negative viewpoints
An associate's engagement is a result of their manager and themselves, split evenly. That was an interesting concept. It is not just up to the individual but their manager as well. The most positive associate can be crushed in their engagement if their manager's reaction and treatment towards them is consistently ambivalent or disengaged. Overtime, they will seek another position and your team loses good talent. This prompted some self-reflection to examine my own level of engagement as well as my behavior towards those that I have management responsibility for.
Sheridan reviews the topic of diversity in a variety of aspects. One that I found extremely helpful was generational diversity. He describes the motivations and drivers of four different generations. The factors are based on each generation's collective history and what defined their formative years. With that insight, it outlines details to better engage across generations.
When I first started reading it, I was a little skeptical that anything could really change an organization. What I have learned, is that while it can take some time, it can be done.
Click here to purchase 'Building a Magnetic Culture' from Amazon.

Related Posts
Comments
No comments made yet. Be the first to submit a comment