Effective this month, Buyers Meeting Point will start covering the release of the ISM Non-Manufacturing Report on Business. The report is released the first week of every month for the previous month. This month's report can be found here.
If you have never read the report, it can take some adjustment. We are going to boil each report down to the basic and most useable components. I also recommend reading the ISM Report on Business Brochure.
If you only have 30 seconds, here is what you should know about this month's report:
In June, the NMI registered 53.3 percent, indicating continued growth in the non-manufacturing sector for the 19th consecutive month. A reading above 50 percent indicates the non-manufacturing sector economy is generally expanding; below 50 percent indicates the non-manufacturing sector is generally contracting.
WHAT RESPONDENTS ARE SAYING ...
"Business is still up, although some softening seen over last month." (Wholesale Trade)

"Orders are remaining steady, and outlook for this year is positive." (Professional, Scientific & Technical Services)

"Economic activity continues to be sluggish." (Management of Companies & Support Services)

"Have yet to see a real spark that ignites new and invigorated business — still seems lethargic and mired in recession-related preventative moves, and no one sees a real improvement ahead." (Public Administration)

"Commodities coming down in price, which should help stabilize inflation." (Retail Trade)
If you have 60 seconds, here is a little more:
Commodities Up in Price: Airfares (7); Can Liners (3); Cheese; Chemicals (2); Copy Paper; Cotton Products (10); #1 Diesel Fuel* (9); #2 Diesel Fuel* (12); Food & Beverage; Food Products (2); Fuel (18); Fuel Surcharges (6); Gasoline* (9); Gloves; Latex Gloves (6); Paper (8); Petroleum Products (6); Plastic Products (4); Plastics (3); and Polyethylene Film.
Commodities Down in Price: Cotton; #1 Diesel Fuel*; #2 Diesel Fuel*; and Gasoline*.
Commodities in Short Supply: Fiber Optic Products; Medical Supplies; Plastic Products; Plenum Cable; and Tires.
Note: The number of consecutive months the commodity is listed is indicated after each item.
*Reported as both up and down in price.
BMP Note: Keep in mind that the above listings include true commodities, or "any unprocessed or partially processed good, as grain, fruits, and vegetables, or precious metals" (Dictionary.com). While you may not be sourcing these exact items/categories, they may be present elsewhere in the supply chain – for example, used as raw materials or in the manufacturing processes used by your suppliers.
If you have 2 whole minutes to give: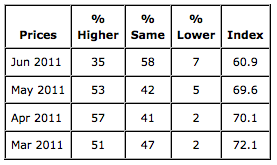 Prices paid by non-manufacturing organizations for purchased materials and services increased in June. ISM's Non-Manufacturing Prices Index for June registered 60.9 percent, 8.7 percentage points lower than the 69.6 percent reported in May. In June, the percentage of respondents reporting higher prices is 35 percent, the percentage indicating no change in prices paid is 58 percent, and 7 percent of the respondents reported lower prices.
Sixteen non-manufacturing industries reported an increase in prices paid, in the following order: Real Estate, Rental & Leasing; Accommodation & Food Services; Arts, Entertainment & Recreation; Mining; Wholesale Trade; Professional, Scientific & Technical Services; Management of Companies & Support Services; Transportation & Warehousing; Health Care & Social Assistance; Finance & Insurance; Utilities; Educational Services; Other Services; Retail Trade; Construction; and Public Administration. The only industry reporting a decrease in prices paid is Information.
Have 5 minutes? Take a look at the entire report and let us know what you think!

About the ISM "Report on Business":
There are two primary indices in the report:
PMI: the Procurement Managers' Index (manufacturing sector only)

NMI: The Non Manufacturing Index
Both of the indexes are composite indexes, which means they are comprised of multiple indexes. All of the data for the report is qualitative, based on responses of 'Better', 'Same', or 'Worse' to a series of monthly questions by a confidential panel of procurement managers.
Each index is reported as a percentage. A percentage above 50% means that the outlook is generally positive, below 50% is generally negative. What matters more than the percentages themselves is the trend up or down over time.
While the index that attracts the most overall attention in the report is the PMI, procurement professionals may actually find the NMI to be more directly applicable to their open projects. The NMI covers the non-manufacturing sector of the economy: roughly 80% of GDP.