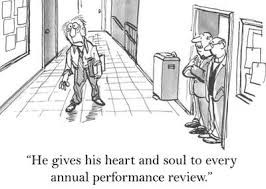 It's that time of year.
Don't shrink from the performance review process. It's a time to reflect on the past year's results, recognize accomplishments, and reset expectations with your staff for the upcoming year.
Purpose of the Performance Review
The primary purpose of performance reviews is to measure individual performance against the goals and objectives agreed to at the start of the previous year. I'll dig deeper into this idea in a forthcoming post on Procurement Goals and Objectives.
Ask each employee to gather their final metrics and plot them next to their initial goals. This exercise reinforces the department's goals and objectives to employees. Moreover, upon seeing their results, conscientious employees will honestly reflect about their performance before the actual performance review with their manager.
Structure of the Performance Review
Companies use a variety of evaluation systems, but most follow the same basic format.
A rating is assigned to a small number of essential competencies such as "Accomplishments and Results", "Planning and Organizing", "Interpersonal Skills" etc. There's often an area of the performance review reserved for Manager Comments (see Practical Tips below). Finally, an overall score or rating is assigned to each employee – often the most problematic part of the process for managers.
High-performers naturally want the highest scores. Anything less may lead to pouting or worse. But what if you are fortunate enough to have a whole staff of high-performers? What if your company has implemented the controversial Forced Distribution or Bell Curve process for employee appraisals where you must assign 10% top score, 80% middle, and 10% bottom?
It comes down to judgment. If you're hamstrung in the above situation, make it known jokingly to your staff that you can only award one 'Exceeds Expectations" appraisal next year. Use it as an opportunity to introduce some good-natured competition among your staff, and make the metrics as transparent as possible along the way to avoid conflict later.
Executing the Performance Review
Regardless of how warm your relations are with employees reviews should be formal; this is good time to remind both parties of the nature of the relationship and demonstrates how seriously you take their performance.
Allow sufficient time for each employee appraisal. This is the employee's one on one time with the boss and it should never feel obligatory or rushed.
Keep the conversation focused on the results. Methodically compare each metric or result vs. the objective. Make sure the employee understands your expectation for each measureable.
Get Personal
The conversation need not be limited to cold metrics. It's also an opportunity to have a personal discussion with the employee about their strengths, opportunities, and aspirations.
The good might be: "You're excellent at managing a variety of personality types" or "I really like the way you break down complex information to cross-functional groups".
The bad might be: "I've observed that you struggle to communicate with some Engineers" or "You have an opportunity to sharpen your presentation skills".
For each improvement opportunity, have potential solutions as well as specific examples ready: "I think you would benefit from Extended DISC training so you are better prepared to deal with different personality types" or " I want to review your next couple presentations with you in advance and show you how to keep slides / topics flowing smoothly".
The best performance reviews are the ones where your employees leave fired up and motivated for the New Year; metrics alone rarely accomplish this outcome.
Practical Tips
Deploy a 360 or rounded feedback template to the employee's key stakeholders; this is particularly useful for assessing interpersonal skills
Dump the essay format; use bullet points and semi-colons to string together short, sharp language when summarizing the employee's performance; incorporate final metrics achieved in these comments
The performance review is not an occasion for "gotcha" moments. Like steering a ship, micro corrections are necessary throughout the year. Nothing shared in a performance review should ever come as a surprise.