WEBINAR: Thinking Bigger: Next Level Indirect Procurement (AOP, SupplyLogic)
Tuesday, March 09, 2021, 01:00pm - 02:00pm

by
This email address is being protected from spambots. You need JavaScript enabled to view it.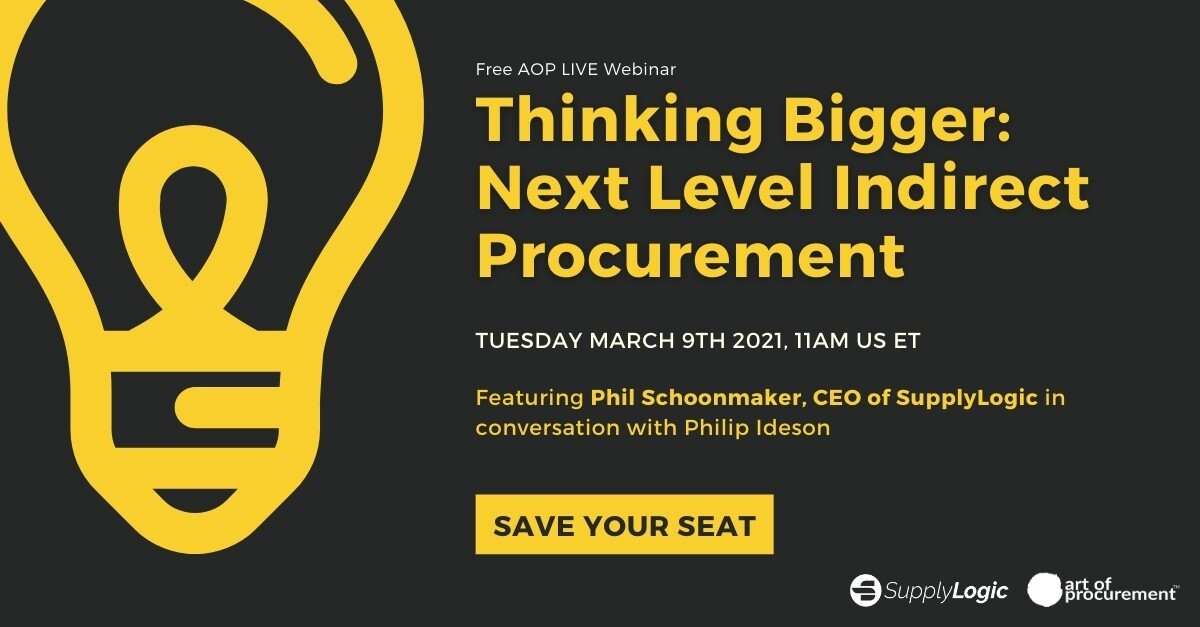 As procurement teams are challenged to take on broader responsibilities, tough decisions need to be made about how much category expertise should be kept in house.
Companies are uncovering tremendous value in their marketing procurement and execution supply chains by outsourcing to specialized third party partners. While print, point of sale and branded merchandise categories are closely connected to the strategic marketing function, and must always be aligned to it, the expertise to effectively manage marketing execution falls outside of the specialization of most marketing and procurement teams.
The fact is that the management of these unique categories is not core to the majority of businesses. This presents a great opportunity for businesses to leverage a managed services solution to control costs, mitigate operational risks and accelerate customer acquisition and retention.
Managed services solutions are commercially aligned and provide full transparency, continuous evaluation, and improvement, eliminating the need for RFPs and other sub-optimal tactics. The managed services model provides procurement leaders with an opportunity to improve their approach to indirect categories and see immediate value, not only in cost savings, but in freed up time and resources to focus on more strategic initiatives.
In this AOP Live session, Phil Schoonmaker, CEO of SupplyLogic, will share how teams are making their marketing procurement and supply chains smarter through an expanded approach and outsourcing:
The current state of the marketing supply chain, including print, POS, and branded merchandise
Rethinking what is core to your business function
How procurement can measure and assess the baseline environment using both quantitative and qualitative data
Lessons learned from dozens of marketing managed services transformation journeys and compelling outcomes achieved as a result