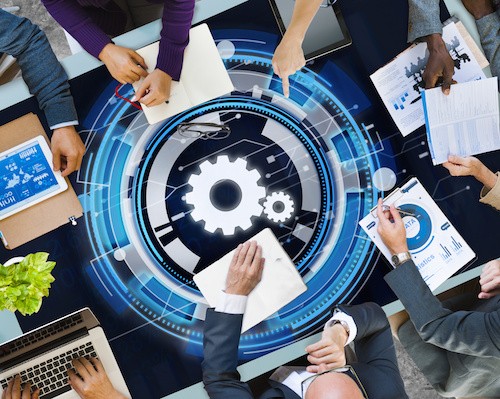 This month's featured publication is Common Sense Supply Management – click here to read our review or to order a copy from Amazon.com. Since we have worked with author Dr. Tom DePaoli in the past, we took the opportunity of this new book being out to get an update on his perspective of supply management as a discipline, how social media is affecting the interactive dynamics, and on our role in the larger organization.
If you are interested in learning more about Dr. Tom's work, visit the Common Sense Purchasing and Supply Management website here. You can also read our review of 'Common Sense Purchasing' on The Point.
Buyers Meeting Point: Do you have a working definition of 'Supply Management' in your mind? What changed in our profession or in your career that caused you to focus this book on supply management after writing Common Sense Purchasing?
Dr. Tom DePaoli: I did have a working definition of supply management when I started the book. I emphasized the relationship aspect. I somewhat agree with the ISM definition. "The identification, acquisition, access, positioning, management of resources and related capabilities the organization needs or potentially needs in the attainment of its strategic objectives." Supply management is much more strategic than the traditional concept of purchasing. Since I have transformed many traditional purchasing organizations into supply management organizations I understand the strategic nature of supply management. The other difference is that in supply management, the relationship building is much more complicated and at multilevels. It is not just a matrix but a multidimensional matrix of relationships! The supply management professional needs versatility and powerful relationship building skills. Their understanding of the business must be broad and well grounded. Their understanding of the many marketplaces, domestic and global, is also essential.
BMP: You give many examples of the benefits of face-to-face interactions, both with suppliers and internal stakeholders. Do you feel that supply management professionals have become too reliant on virtual communication?
Dr. T: At times I believe that they do become too reliant on virtual communication. These are great tools but nothing beats face to face interaction, supplier site visits, in person quality discussions, visiting internal stakeholders and asking for their input, and just going out in the field and asking questions and learning. In my experience, these actions yield a lot more useful data and more importantly encourage collaboration. The issue is always time management and which face to face interactions are critical.
BMP: What trends have you seen with supply management professionals making use of (or missing out on) the benefits of social media?
Dr. T: Supply management professionals need to use social media more to network, share ideas and discuss problems. There are various professional supply management organizations that have running discussions that supply management professionals can participate in and share information. One of the most valuable is asking for help on sourcing especially when you are cold sourcing a new part or service. Supply management professionals will usually give you a good honest answer on a supplier and share their supplier performance data.
BMP: You make the comment that the head of supply management must be at the vice president level (p. 50). When you combine this with the need to get Finance's sign-off on savings definitions (p. 115), do you feel that Finance is the best organization for supply management to report to, or should we be positioned on the operational side of the business?
Dr. T: Supply management should be independent of the finance organization in a company. They should report directly to the CEO. Finance should sign off on the scorecard that supply management keeps especially around savings. Many financial organizations are still using standard cost techniques instead of activity costing. As you know total cost of ownership savings include many qualitative savings that must be valued fairly. Supply Management is strongly operational; no other internal organization has a bigger impact on the bottom line. We provide the critical tools, resources, services, and parts etc. that make operations possible. Often we control or influence a very large percentage of the cost of goods sold.
About Dr Tom
Dr. Tom DePaoli is an independent management consulting professional with over twenty years of experience in all phases of purchasing, human resources, supply chain optimization, strategic sourcing, organizational re-design, e-commerce, SAP and e-procurement software. Dr. Tom DePaoli has extensive skills in, change management, Lean Six Sigma, reengineering purchasing, supply chain relationships, ISO9000, ERP and comprehensive international logistical expertise. He is a Lean Six Sigma Black Belt.
Dr. Tom wrote a groundbreaking study on pay-for-skills compensation systems for his doctoral degree. He has extensive Human Resources experience and is a SPHR certified for life because of his contributions to the Human Resources profession.
Tom has been published extensively in Manufacturing Engineering Magazine, Purchasing World and Purchasing Today. He has conducted highly rated seminars on Reengineering Purchasing, Coping with Mega-Change, Win-Win Negotiating, Lean Six Sigma, Supply Management, Pay-For-Skill Compensation, Dealing with Technological Change, Motivational Techniques and various human resources topics with a special emphasis on employee empowerment.