Webinar Notes: Women Networking Group Webinar - Marketing Yourself through Social Media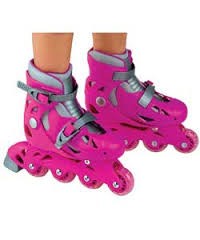 This week's webinar notes are from a March 9th webinar hosted by IACCM and presented by IACCM Resourcing CEO Susanne Birch. Before I share any of my notes from the event, I have a confession to make. It may not seem related, but bear with me.
I despise pink rollerblades.
It isn't that I have anything against this specific combination of color and product, to me it is what the combination represents. When I was in college, I went to buy a pair of roller blades and my choice was pink. Bright, bubblegum, icky-sticky pink. Now, I'm as feminine as the next girl, but something about them struck me as all wrong. Just because I'm female I need to want pink rollerblades? I was planning to join a group of friends to play street hockey and I was not going to show up in skates that looked like I stole them from Barbie's Malibu Dream House. So, with no other options, I did the only reasonable thing I could think of. I bought a pair of men's grey rollerblades.
What on earth does this have to do with IACCM and their women's networking webinar? I signed up for the event genuinely interested in the combination of social media networking and considerations specific to professional women. I didn't have any idea of what those considerations were, but I was curious.
I listened carefully to all 48 minutes of Birch's presentation (which was fabulous by the way) without hearing a single mention of gender. As good as all of the advice and information was, it would have applied equally to a male or co-ed audience. So I took the opportunity after the event to reach out to IACCM to ask why the event was billed as a women's networking webinar. I didn't necessarily get an answer to that question but I did get a very interesting response from Birch who, in my opinion, made the best point possible.
In response to my inquiry Birch wrote, "I did find it a challenge adapting the skills of personal career coaching to the larger audience as it just isn't one-size-fits-all; everyone, male-female-young professionals and leadership, the coaching is tailored to the individual, strengths and weaknesses, and personal circumstances. For me, successful career coaching is all about passing on knowledge and know-how, helping and supporting the individual to garner the breadth of skills needed and to see the pathways to achieve his/her personal goals."
In my opinion, that's a brilliant take. Without personal, individualized goals and planning, none of us is able to stand out from the crowd and get the network or job we desire. Networking is a highly individualized process. There isn't a way for women to do it and a way for men to do it. There is, however, a best way for me to network and a best way for you to network – whoever you happen to be and whatever your goals are.

Now that I've opined about the gender aspect of the webinar (or lack thereof) there were some very good points that were actually part of the content that are well worth passing along.
If you are job hunting, be purposeful about everything you do. Update your profile and resume/CV, keep your image and brand consistent across platforms and channels. Be very careful if you already have a job, because you will probably only get to make a mistake that tips off your current employer once.
Don't waste your time collecting a bunch of LinkedIn endorsements or recommendations. Since you control which ones appear on your profile, they provide a very one-sided, good news only, look at your performance so recruiters are unlikely to take them very seriously.
If you are a professional that doesn't happen to belong to a professional association, find another way to document your professional development activities. Millennials may consider certifications or associations 'old school' but they do make it easy for employers to validate what you know and how much you have learned.
I was also pleasantly surprised to hear Birch mention Jon Hansen's recent blog post on social media profile pictures. (You can read it here). If you haven't praised or skewered him yet, you still have time. Everyone else has... Employers and prospective employers alike are looking at your digital footprint. You absolutely have the right to make full use of all sharing platforms, just keep in mind that you will be held to account if what you share rubs decision-makers the wrong way.
Stay Informed
When you subscribe to the blog, we will send you an e-mail when there are new updates on the site so you wouldn't miss them.